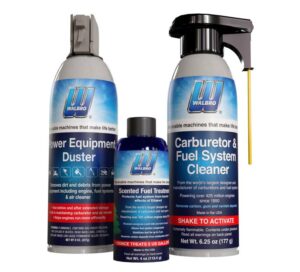 POWER EQUIPMENT COMPLETE FUEL SYSTEM KIT
Walbro's new Power Equipment Complete Fuel System Kit includes a Scented Fuel Treatment, Carburetor & Fuel System Cleaner, and Power Equipment Duster. Walbro's unique formula of cleaners and lubricants both cleans and protects your fuel system.
4 oz Scented Fuel Treatment- protect your fuel system from harmful effect of ethanol with a pleasant evergreen scent.
6.25 oz Carburetor & Fuel System Cleaner- remove carbon, gum and varnish deposits.
8 oz Power Equipment Duster- remove dirt and debris from power equipment including engine, fuel systems and air cleaner.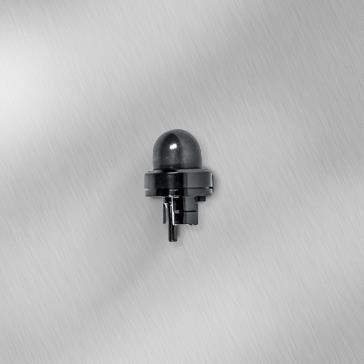 ETHANOL-RESISTANCE PRIMER ASSEMBLY: 188-570
Looking for a Carburetor or Parts?
If you know the specific carburetor or carburetor components you need, just follow these easy steps:
Go to Walbro Parts Look up
In the box to the upper right hand side where it reads "Search by Walbro Part #" type in the specific part number or model you are looking for. For example WT-XX and click on GO.
You will then see that part number and its list price or replacement. Click on the Walbro Part Number.
You will now see the "generic" exploded view and the specific parts list to the right.
To order from our On-line partner, click the Order Parts box now.
Walbro Carburetor Service Video
New: Walbro video featuring hands-on demonstrations of key service procedures including inspection, proper disassembly, testing, and reassembly of butterfly and rotary carburetors.
This all-new, 21 minute video demonstrates the proper techniques for servicing Walbro butterfly valve and rotary valve diaphragm carburetors. The video will be of value to dealers, service technicians and technically-oriented consumers.  More Info