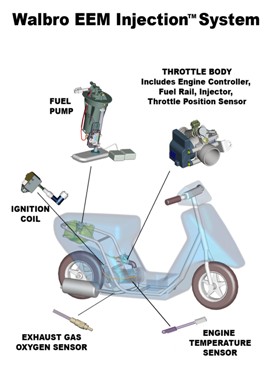 Tianjin, China – Walbro has introduced its new EEM InjectionTM system to Chinese motorcycle and scooter manufacturers. EEM InjectionTM is a simple, cost-effective system designed to meet upcoming exhaust emissions standards in Europe and other key Chinese export markets.
"The Walbro EEM InjectionTM system is an example of Walbro's continuing commitment to help its customers meet ongoing environmental challenges throughout the world," notes Tony Martin, President & Chief Executive Officer, Walbro Engine Management. "With international manufacturers producing and selling around the globe to satisfy economic and market needs, Walbro is ready to supply its products and support wherever needed, for use in a variety of global markets."
SIMPLE AND COST EFFECTIVE
Walbro's EEM InjectionTM system is designed for two and three-wheel vehicles with single cylinder engines up to 250 cc displacement. This encompasses several popular vehicle classifications that include most of China's export motorcycles and scooters.
The Walbro EEM InjectionTM system is specifically designed for motorcycle and scooter applications. It is not a scaled down automotive EFI system. Simplicity and low cost were two major design objectives.
The Walbro EEM InjectionTM system requires only five bolt-on components: two that replace existing parts, and three new components.
In addition to simplicity and low cost, EEM InjectionTM offers a number of other important advantages, including:
Minimal engine changes
Simple operation
Improved starting
Reduced after treatment requirements
Improved catalyst life
FOCUS ON CHINESE EXPORT VEHICLES
The Walbro EEM InjectionTM system will allow Chinese manufacturers to meet upcoming exhaust emissions standards such as Euro 4, which goes into effect in 2014. In addition to becoming the European standard, Euro 4 is expected to be the basis for exhaust emission standards in several key export markets for Chinese scooter manufacturers.
The importance of meeting exhaust emission standards in each export market has become very visible with recent, costly crackdowns by the United States EPA on imported scooters that did not comply with US requirements. Enforcement of exhaust emissions standards is expected to continue to become more stringent throughout the world, making compliance a significant issue.
EXCEPTIONAL CUSTOMER SUPPORT
"Walbro is committed to helping its customers in ways beyond simply supplying hardware," says Walbro's Martin. "We will provide assistance throughout the process as customers work to meet upcoming emissions standards."
In addition to providing the necessary EEM InjectionTM system components to its customers, Walbro will also provide ongoing technical support, including assistance with planning, application engineering, calibration, design validation, certification and diagnostics.
Like all Walbro products, the new EEM InjectionTM system is backed by Walbro's global resources. These include engineering, development and test facilities in Cass City, Michigan, that focus on two and three wheel vehicle systems. These facilities allow for extensive emissions testing and include a chassis dynamometer in addition to engine test cells.
Walbro Engine Management is a global market leader of engine management systems for the lawn and garden, recreational and marine, outdoor power equipment, and two-wheel small engine markets. Walbro Engine Management manufactures ignition systems, fuel injection, air/fuel management systems and fuel storage and distribution systems. Walbro Engine Management is a global organization with manufacturing and engineering facilities in China, Italy, Japan, Mexico, Thailand and the United States, with headquarters in Tucson, Arizona. Additional information regarding Walbro Engine Management is available at www.walbro.com/.
For more information, please contact:
Greg Marier
Walbro Engine Management
(989)872-7235