Cass City, MI – Walbro Engine Management is the recipient of an Economic Development Award in recognition of its investment in Tuscola County, Michigan. The award was presented to Walbro by the Tuscola County Economic Development Corporation "in recognition of your efforts to promote economic opportunity, to invest in Tuscola County, and to improve the quality of life in Tuscola County and the Thumb area."
The driving force behind the award was the expansion of Walbro Engine Management's facility in Cass City, Michigan. A major part of the Walbro plant focuses on the production of multilayer fuel tanks used in lawn and garden, recreational and marine products.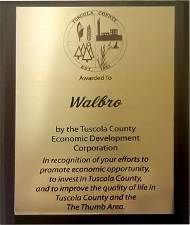 Walbro Engine Management has dramatically expanded its multilayer fuel tank production capabilities in response to the growing demand for fuel tanks that meet increasingly stringent clean air standards. Walbro's facility in Cass City, Tuscola County, Michigan, was recently expanded to accommodate a fourth blow-molding machine. Walbro also recently opened a blow-molding facility in Chonburi, Thailand to better serve customers in the Asia-Pacific Region.
The success of Walbro's fuel tank line is based on six-layer construction with a vapor barrier that effectively contains hydrocarbon emissions, allowing it to meet strict evaporative emissions standards. In addition, Walbro's multi-layer tanks are virtually unaffected by ethanol, an important durability issue as the use of ethanol fuels increases in the coming years.
While multi-layer fuel tanks are relatively new to the small engine arena, they are established technology in the automotive industry, where evaporative emissions standards first appeared. Walbro's pioneering efforts in multilayer tank technology for automotive applications date back to 1992, and put the company on the leading edge of evaporative emissions solutions for non-automotive applications ranging from small tanks for hand-held trimmers to larger tanks for riding mowers and recreational applications such as ATVs, two-wheelers and snowmobiles.
For more information, please contact:
Greg Marier
Walbro Engine Management
(989)872-7235