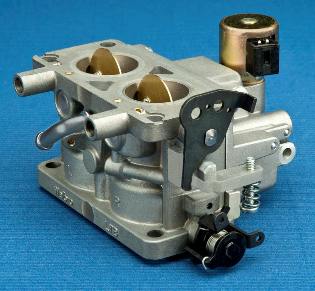 Cass City, MI– Walbro Engine Management has introduced its LTB two-barrel carburetor, an all-new design developed with the objective of being "best in class" in its target markets. It is designed for 20-30 hp, twin-cylinder engines used in zero turn radius mowers, large garden tractors and even exotic applications such as Amazon river boats.
"We benchmarked all the available carburetors in this size range," notes Donald C. Ross, Business Unit Director, Walbro Engine Management. "We evaluated their performance and features, and our goal was to meet or exceed all of them in a single carburetor design. The result is the Walbro LTB two-barrel carburetor."
A primary objective was to optimize the LTB carburetor for the types of high-speed maneuvers common to zero turn radius mowers. With most carburetors, sudden acceleration, bumps and hard stops can cause fuel to slosh in the bowl, resulting in changes in the air/fuel ratio. The engine can then run too rich or too lean, causing it to briefly cut out. Strong side G-forces from hard cornering can force fuel to one side, starving the engine of fuel and causing hesitation or stalling.
The Walbro LTB carburetor combats these problems with a number of unique design features, including a carefully located fuel pickup, very accurate fuel control, and precise throttle positioning. Special attention also was paid to the design of the fuel bowl, fuel routing, and baffling above the fuel level.
The Walbro LTB carburetor offers other important performance benefits. It provides improved part throttle stability and load pickup, eliminating hesitation and stumbling. The LTB also provides optimal airflow for the highest possible horsepower.
The LTB's two-barrel design allows each cylinder to be individually calibrated, compensating for cylinder temperature variations common in many applications. The result is lower overall exhaust emissions.
Ross notes that the LTB carburetor meets EPA and California Air Resources Board standards and has tamper proof adjustments. It is easily serviceable. Plus, it is produced in North America, so the LTB also offers short lead times in support of North America customers.
"In addition to its advanced design and exceptional performance, the Walbro LTB is available with several optional features allowing Walbro Engineers to easily customize the carburetor for value priced platforms as well as full-featured applications," Ross says. "As a result, the Walbro LTB carburetor is an extremely attractive and versatile product."
Walbro Engine Management is a global market leader of engine management systems for the lawn and garden, recreational and marine, outdoor power equipment, and twowheel small engine markets. Walbro Engine Management manufactures ignition systems, fuel injection, air/fuel management systems and fuel storage and distribution systems. Walbro Engine Management is a global organization with manufacturing and engineering facilities in China, Japan, Mexico, Thailand and the United States, with headquarters in Tucson, Arizona. Additional information regarding Walbro Engine Management is available at www.walbro.com/.
For more information, please contact:
Greg Marier
Walbro Engine Management
(989)872-7235