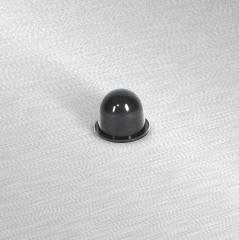 Today's gasoline fuel centers are serving more ethanol fuel blends. In fact, most of the gasoline purchased by US consumers contains some ethanol, as fuel producers strive to meet the requirements of the 1990 Clean Air Act (RFG Fuel) which regards ethanol as a cleaner alternative to traditional petroleum fuels.[1] E10, a fuel mixture of 10% ethanol and 90% gasoline, is commonly found at gas stations, with E15 blends (15% ethanol and 85% gasoline) being introduced at select fuel centers throughout the country. The ethanol found inside of fuel blends pose problems as the engines are unable to compensate for the increased heat levels, decreased lubrication, and increased corrosive effects associated with a higher alcohol content. The undesirable result could be engine damage.
Water also becomes an issue with ethanol blends. The fuel mixtures naturally hold 0.5% water in suspension, but any increase in this percentage causes "phase separation," whereby the water/ethanol mix falls out of its suspension and descends to the bottom of the fuel tank. It's true that all gasoline is susceptible to the ill-effects of changes in weather and moisture content, but ethanol makes the problem even worse. Continued phase separation negatively impacts fuel systems and damages engine parts, especially air purge bulbs. However, an ethanol-resistant air purge bulb can mitigate the harmful effects of ethanol to drive better engine performance and longevity.
In keeping with our mission to serve the small engine market with select, high-quality products, Walbro is introducing a proprietary air purge bulb (188-566-1) and air purge assembly (188-570-1) that we've specifically developed for use with higher ethanol blends. The innovations are designed to remediate the problems small engines suffer due to increased levels of ethanol found in pump gasoline. The products are available immediately from an authorized Walbro Central Warehouse Distributor.
Safeguard the performance of your small engine equipment and extend its life by switching to Walbro's new ethanol compliant purge bulbs. To find a distributor near you, visit our website today!
[1] https://www.eia.gov/tools/faqs/faq.php?id=27&t=10