The first ever electronic fuel injection (EFI) system for a consumer lawn tractor was displayed by Walbro at the GIE+EXPO 2015 in Louisville, Kentucky for use in the Cub Cadet XT2 Enduro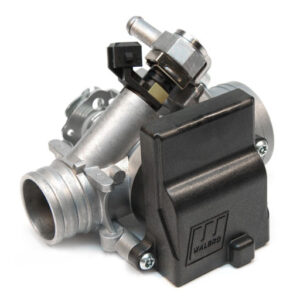 Series Tractor. Cub Cadet selected Walbro as a partner for this groundbreaking project based on Walbro's impressive history, unrivaled system integration capabilities, complete fuel system solutions, and its technology position with a competitive EFI system optimized to reduce components, connections, and overall system cost. Walbro's low cost, bolt on EFI solution featuring its electronic engine management (EEM) fuel injection system provides customers with improved starting, running quality, fuel economy and ethanol compatibility for emissions standards.
The initial cost of an automotive-based EFI system may be difficult for many small displacement engine manufacturers to accept, but the technology will be needed to improve fuel economy and meet future exhaust emissions regulations. It also provides a better user experience with faster and easier starting and better run quality in all weather conditions.
"The major advantage of Walbro's EFI technology is that it allows customers to meet the exhaust emission standards – but with an easy-to-install package that eliminates many of the engine tooling changes and expensive sensors required in typical automotive-based designs," says Eric Zbytowski, Engineering Manager at Walbro.
Walbro entered the automotive fuel injection industry in the 1980s, and transferred that knowledge of automotive EFI technology to expand its small engine product portfolio. Its successful application of the automotive technology to the small engine market has provided customers with the products necessary to meet both technical and regulatory challenges for Outdoor Power Equipment, Marine, and Powersports applications. Walbro EEM™ Injection is one of these derived technologies. Backed by Walbro's global technical resources and manufacturing centers, Walbro EEM™ Injection is not only an industry leading technology, it is supported by the knowledgeable, experienced, and customer-focused Walbro team. With a wide range of support including project planning and application engineering, calibration and design validation, and assistance with emission certification procedures, the experts at Walbro have you covered.
EEM™ is a cost-effective solution that requires minimal engine modifications to meet Euro 4 and other similar standards. Beyond ensuring compliance, it improves starting, cold engine performance, emissions, fuel economy, and storage. Factor in the cost savings that come with the Walbro EEM™ fuel injection system and you have an all-around ideal fuel injection solution. As a global leader of engine management systems for outdoor power equipment, recreational, marine, and two-wheel markets, Walbro has earned its stellar reputation as an innovator and provider of high quality engine products.  Visit Walbro.com for more resources, solutions, and an in-depth look at our product lines.