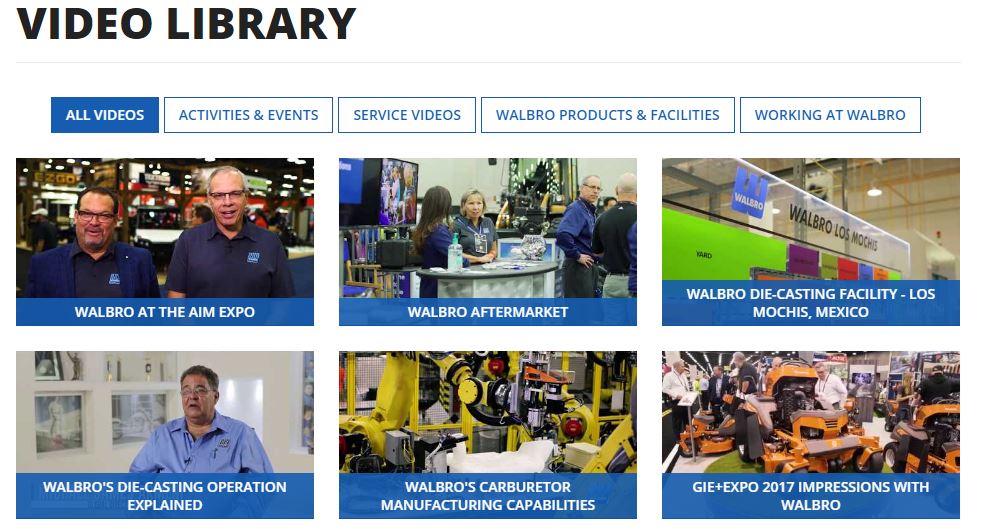 The Walbro Video Library is an ideal resource for getting to know Walbro and all of its quality product offerings a little better. Click today for a peek behind the scenes at everything that goes into making Walbro an industry leader in the small engine markets.
In the video library, visitors can see where the Walbro team has been recently, and experience premier events like the AIM Expo and the GIE+ Expo. It also includes footage explaining our company's die-casting and carburetor manufacturing operations, helpful tips from our Parts and Services team, and great product videos on electronic engine management and multilayer fuel tank technology.
Easily browse through the category tabs at the top of the page to view content filed under Activities & Events, Service Videos, Walbro Products & Facilities, and Working at Walbro.
For busy professionals, the video library is the perfect resource for getting all of your questions answered, and meeting the talented team behind the Walbro products you use every day. The Walbro philosophy is guided by total dedication to creating high quality products and maintaining close, personal relationships with our valued customers and dealer network. The video library is just one more tool for connecting with the industry we love to serve.
Visit the Video Library now at https://www.walbro.com/about-us/video-library/.