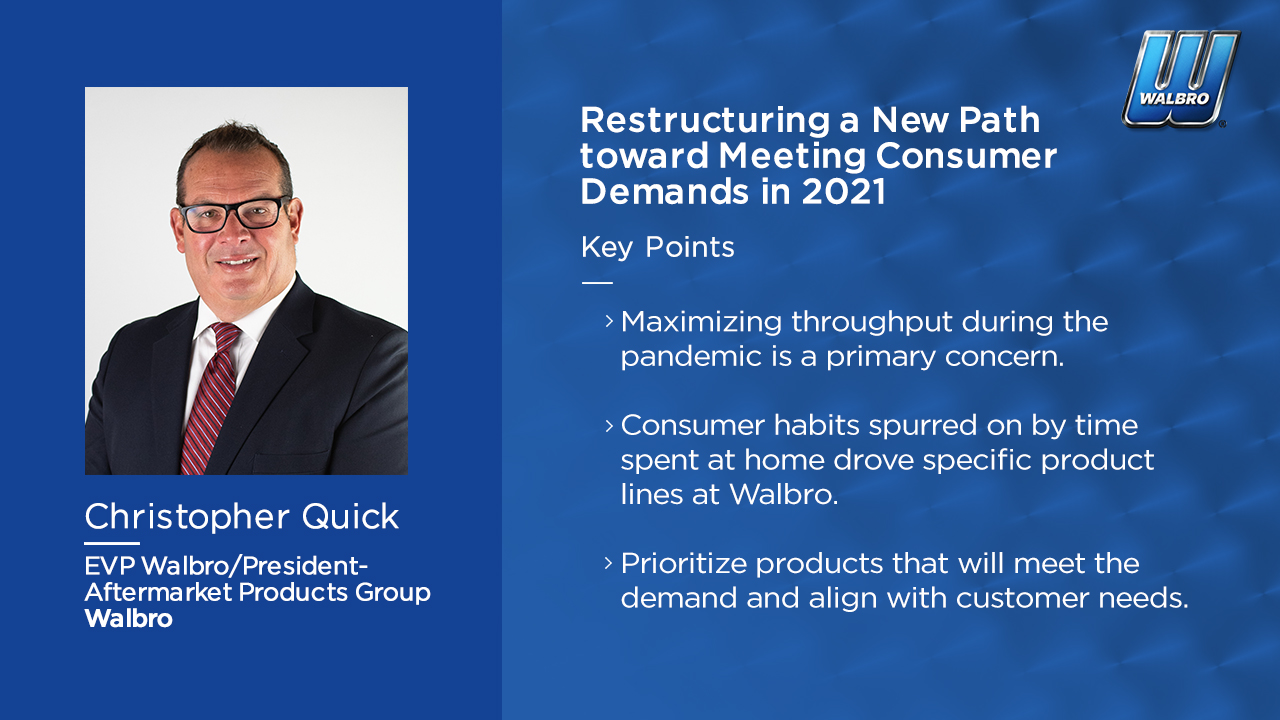 When Walbro looked at the landscape for 2021, leaders quickly realized change was needed. Customer demands were different resulting from the pandemic, and it was time to restructure and rebrand. Christopher Quick, EVP of Walbro and President of the Aftermarket Product Group, is excited about the changes going on at Walbro, and he couldn't wait to talk some shop about all the happenings.
Quick admitted that 2020 was a very dynamic year.
"We started really strong, and then the brakes got put on. It started in China. We had to shut down a plant. We took a lot of lessons from that plant in terms of protecting our most important resources, our people, and applied that across as best practices," he said. Walbro spent the remainder of the year, like most companies, trying to survive as a business. "When the demand dropped out, we worked hard to manage our cash and reduce spending. Then the demand came back, and we've been going like crazy since."
Due to the change in demand throughout 2020, Walbro took a look at their three business units to determine the best restructuring plan to maximize benefits for the customer.
Quick spent the last quarter putting a vision and strategy together for the aftermarket group.
"We highlighted a team and restructured," Quick said. "We added resources into our group, so we can start focusing on improving our overall sales performance and our execution by adding technical team members to that staff."
These moves will help Walbro satisfy customer needs and provide Quick and his team the opportunity to take advantage of opportunities he felt were being left on the table.
A couple of areas for concentration is power sports and the marine segment. And Quick even has his eye on the automotive segment, where he believes Walbro can adapt some of their core technologies to provide offerings to that market.