Cause and effect is a phrase that certainly applies to the power sports market as it relates to the COVID-19 pandemic. The virus that ground the world to a halt created an explosion of interest in ATVs, UTVs, motorcycles and boats, with sales-generating through the roof.
Mike Coyle, Executive Vice President and President of Fuel Systems Business Unit at Walbro, LLC, explained how this explosive growth in one segment of Walbro's business required a fundamental shift in how the fuel systems group operates and what to expect from the industry in 2021.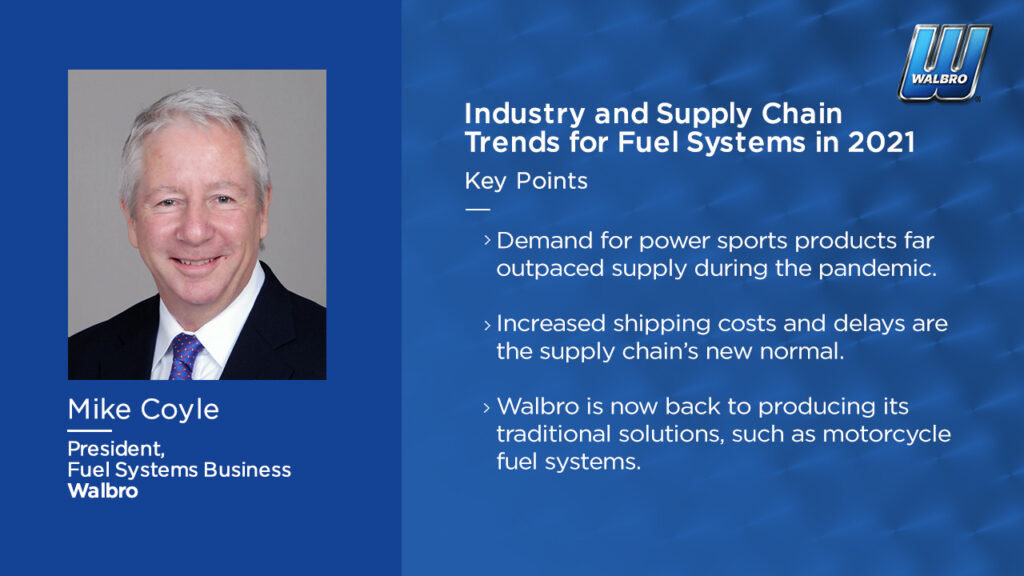 "Last spring, when COVID started to take hold, we had plant shutdowns and so forth, and we got way behind with our customers," Coyle said. "And then, when the first wave passed and we were allowed to get back into production, of course, all of our customers wanted everything that they had ordered pre-COVID. They wanted it all, like yesterday. So, there was a big effort to try and get caught up with past orders."
The ongoing challenge for Walbro and its dealers is how to keep up with the growing demand for power sports products, a market that shows no signs of diminishing.
The increase in demand for these power sports products is not limited to the United States; this is a global phenomenon. And Coyle said that Walbro relies on their engine management and fuel systems plants in Thailand to assist with those global demands. These plants are smaller than their Michigan plant but serve an essential function for creating fuel tanks for customers in that area of the world.
"We have a pretty good customer base there, and that is a world-class operation," Coyle said. "When we measure quality, one of the things we look at is our external defect rate, how many bad parts are returned to us from customers, and we measure that in parts per million. For all of last year the Thailand plants, their quality rate in parts per million was 10. That's world-class in any industry."