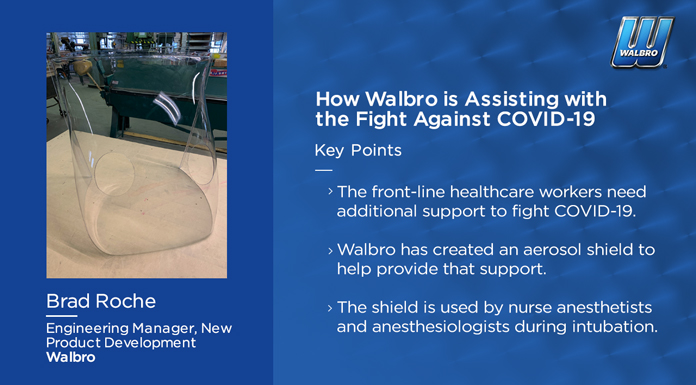 Walbro Engineering Manager, New Product Development Brad Roche joins host Tyler Kern to outline how the company is doing its part to assist medical personnel on the front lines of the battle against the global COVID-19 pandemic.
On this episode of Talking Shop with Walbro, host Tyler Kern was joined by Walbro Engineering Manager, New Product Development Brad Roche for a special discussion about how the company is helping those on the front lines of the fight against the COVID-19 pandemic.
Walbro has created an aerosol shield for nurse anesthetists and anesthesiologists to utilize during intubation, which protects these front-line healthcare workers from aerosol particles potentially spreading the novel coronavirus.
The product addresses a critical need for personal protective equipment, or PPE, that has been exposed by the accelerated spread of the virus.
"Through some brainstorming that we did, we tried to identify a lot of things that we could help with, then we started reaching out to medical professionals," Roche said. "Through their guidance and feedback, we've created this device, which is largely based on something people are building in their garages. We thought we could bring a level of professionalism to it and make it a lot more durable, a lot more usable and (make it) last a lot longer for medical professionals."
The entire process of engaging in this transition to supporting the medical community took less two weeks, with the initial brainstorm coming in mid-March, further consultation and improvements aimed at mass production toward the end of the month, and the first prototype-tooled version finalized on March 27.
Though Walbro was able to convert a plant typically manufacturing products like fuel tanks into a viable location for the production of these shields, Roche said the real heroes are those serving our global community on the leading edge of the fight against COVID-19. Learn more today at https://www.walbro.com/aerosol-shield/.